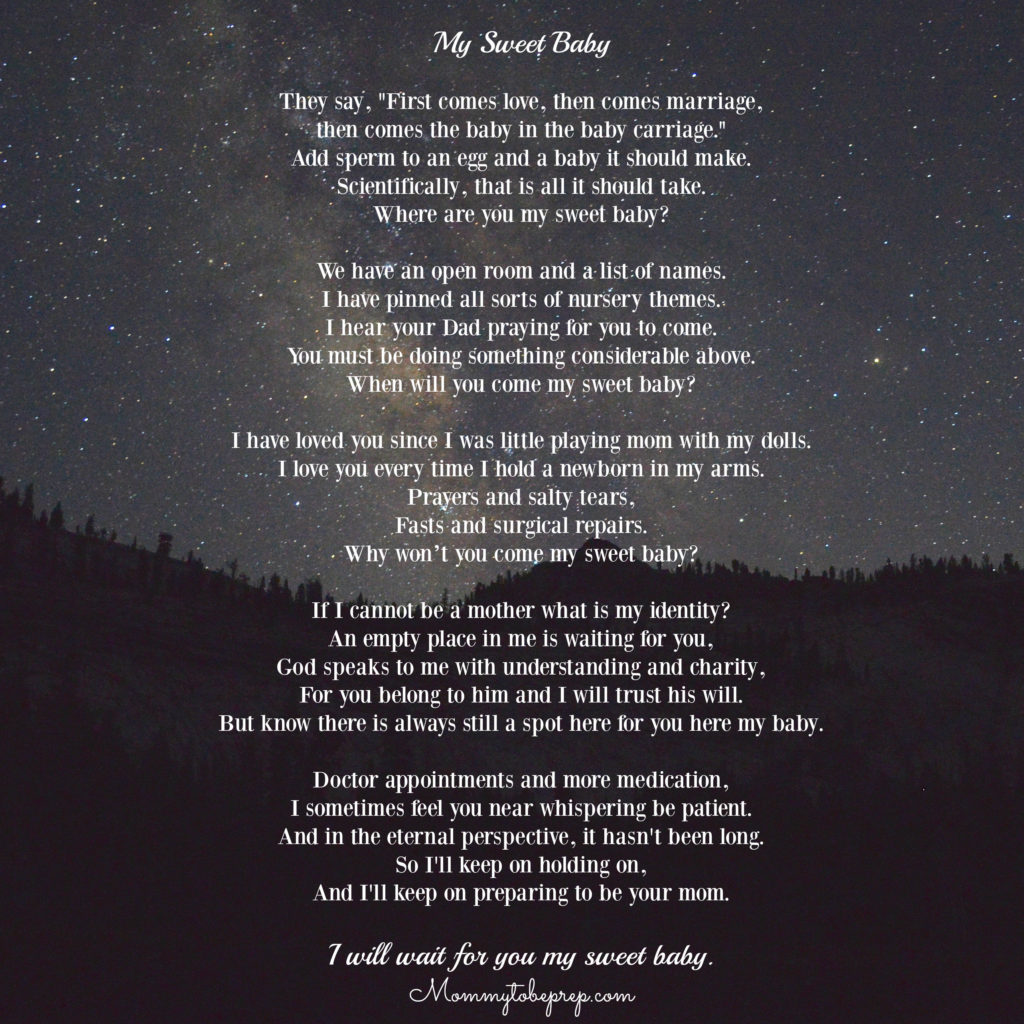 We all go through times that cause us to feel depressed, stonewalled, and isolated- we are all connected this way. Fertile or infertile, all of us go through trials that cause us to evaluate our purpose in life. Even with all of the planning, preparing, and organizing of our future we try to do, we cannot avoid all life's wrestles and surprises.  But that was never God's plan for us, was it? "For it must needs be, that there is an opposition in all things."1 This is where our pivotal point comes, what will we do with the only thing that is truly ours? What will we do with our agency, or how will we choose to act?2 "Will our adversities be stumbling blocks or stepping-stones?"3 This is where faith comes in.
Statistics of Infertility
As a Labor and Delivery Nurse in an inner city hospital, I get the opportunity to work with a diverse population. Some of the most heart straining times have been working with expecting women living in poverty, trapped in drug abuse, physical abuse, homelessness, and even prostitution or rape. I think you get the picture. Occasionally, babies are born into less than ideal circumstances- sometimes terrible.
 On the other hand, there is an ample amount of couples yearning for their own healthy pregnancy, willing to give up anything. The CDC reports 7.5 million (12.3%) American women struggle with "impaired fecundity" which is the ability to become pregnant or carry a baby to term. This equates to one in every ten women.4 Many times, these women and men choose to suffer in silence for many reasons. Although hidden pain may feel like safer grounds, suffering in silence may cause the pain to be even more heavy.5
Further more, the purpose of my message is not to diminish the intimacy and privacy of these emotional charged topics. My message is also not intended to draw sympathy. But rather, the purpose of my message is to open the door for awareness, authentic communication, and ultimately, to offer a glimmer of hope- for myself and to others. As intimidating and just- well, plain scary as it is to share my own struggles, weaknesses and testimony. For me, my vulnerability is worth this purpose.
I'm Just One in Ten
My husband and I are just one of the many millions whose struggle includes decreased fertility. This trial is experienced and processed differently for many. For me, the struggle of decreased fertility has been like walking around with an inflamed blister. Not many could tell something was wrong. And no matter how much I tried to ignore it and stay busy, there was always a pull, an uncomfortable rub, and some hurt. Although, unlike a blister, decreased fertility usually does not have one simple solution, bringing about a loathed emotion- powerlessness.  
It is a draining, whiplashing roller coaster ride. The peaks of hope and excitement crash into cruel expanding lows. The undulating emotional ride would leave me authentically nauseated. Sometimes, amusingly even leading me back up to a hope that miraculously we conceived! Throughout this roller coaster ride of emotions, I tried reminding myself "people have it much worse than me" – an absolute. I also tried 'silver lining' the obstacle. Statements like, "We are lucky we are so young," "It's just extra time to bond as a couple," "I will soak up this time while I have it all for myself" and "I'll enjoy my undisturbed sleep and a clean home," only lasted for so long. I felt like the apathetic universe was repeatedly kicking my largest dream of being a Mom to the curbside. My patience was starting to steeply wane and I needed more assurance.  
Pain Paved a Path to God
Like I said before, this struggle is experienced and handled differently for many. For me, my pain paved a path to a more meaningful relationship with God. Initially, my questions created hesitancy. Why would God allow babies to be born in careless, broken homes and not bless us with one of our own? If the family is so central to God's plan, what is my place in this world if I could not be a mom? What was I doing wrong and what was wrong with me? As I kept this hesitancy towards God, the feeling of entitlement, or that I was being cheated out of the greatest blessing became heavier. After becoming aware of this indignation towards God, I knew I needed to have a change of heart. I chose to come closer to God through faith.  And, as I did, I saw literal miracles. The struggle of infertility did not change, but I did. I became stronger through him. The ability to see the out-pouring of God's love came back to view.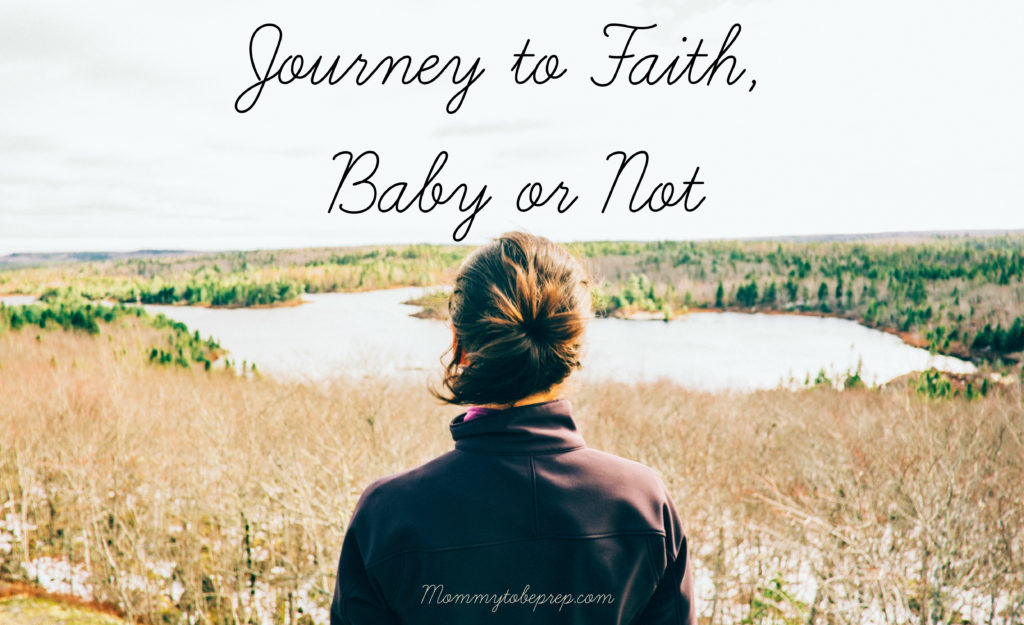 Faith is Trust
Faith is a secure conviction that moves us to take action. Hebrews 11:1 describes faith, "Now faith is the substance of things hoped for, the evidence of things not seen." Okay, so I thought I had grasped this aspect. I could not see my baby in the future, but we had been intently praying for him or her, and we knew God to be all-powerful. Yet, I was lacking something. The direction of my faith needed to be altered. I needed faith in God's plan, not mine, "No the purpose of faith is not to change God's will but to empower us to act on God's will. Faith is trust – trust that God sees what we cannot and He knows what we do not."6
I needed to completely trust His infinite intelligence.7 Even if that included not having a child of my own in my time– or even if it comes to it, in this life. "Trust in the Lord with all thine heart; and lean not unto thine own understanding. In all ways acknowledge him, and he shall direct thy paths."8 
Submission to God's Will
Christ's example of faith and submission to God's will is perfect, "I seek not mine own will, but the will of the Father which hath sent me."9 And his ultimate, universal altering example, "O my Father, if it be possible, let this cup pass from me: nevertheless not as I will, but as thou wilt."10
My ability to submit to God's will was certainly not there yet. I was merely, half heartedly trusting in God's plan. I maintained this way, as if erroneously I had somewhat "more control" over my life. To COMPLETELY submit and say, "OK God, WHATEVER you want to do with me. Truly and wholly, I am all yours for you to expose me to whatever trial you see fit." Felt like being a fish out of water, absolutely removed from my comfort zone. 
Boundary Breaking
We learn to set "healthy boundaries" in relationships here on earth. Healthy boundaries serve in relationships to protect us from being taken advantage of and as a means to communicate expectations. I had unknowingly also created a boundary with God. Creating a boundary or perimeter for just how much pain I would allow God to inflict upon me, gave me a false sense of security, as if I was the one in control. I discovered that although not having complete faith in God is clearly more in my comfort zone, half-hearted submission only produces half the growth, half the blessings, and half a life.11 
It may have felt safer, but how foolish of me when God's thoughts and ways are much higher than the world's!12 He truly wants the best for me. I was no more than laying a great big boulder in the middle of our relationship and hindering myself from receiving further blessings. Thankfully, Heavenly Father does not always wait for us to say, "OK God, WHATEVER you want to do with me…" Sometimes, and usually, He does it anyway because He loves us. I was not ready for the trial of infertility, yet Heavenly Father saw it as a means to help my growth. Even when he knew specifically how much sorrow it would bring to me. God customizes our trials for us to shape us into our greatest potential. 
Utilizing The Atonement
King Benjamin taught that we must utilize Christ's atonement to become "as a child, submissive, meek, humble, patient, full of love, willing to submit to all things which the Lord seeth fit to inflict upon him, even as a child doth submit to his father."13 The alleviating blessing is that God is always faithful to us and will not allow us to suffer or to be tempted above what we are able. He will always create a way for us.14 Even if I am too weak and cannot muster enough faith in God's will, I can have faith in the power of Christ's atonement. 
Exercising a Particle of Faith
Mark chapter 9 tells the faith altering story of the father of an afflicted boy pleading with the Savior in last desperation, "If thou canst do any thing," he said, "have compassion on us, and help us." Jesus said unto him, "If thou canst believe, all things are possible to him that believeth. And straightway the father of the child cried out, and said with tears, Lord, I believe; help thou mine unbelief." Christ then heals the boy, as if almost raising him from the dead. The father's "initial conviction, by his own admission, is limited. But he has an urgent, emphatic desire in behalf of his only child. We are told that is good enough for a beginning."15
The prophet Alma stated, "If ye will awake and arouse your faculties, even to an experiment upon my words, and exercise a particle of faith, yea, even if ye can no more than desire to believe, let this desire work in you, even until ye believe in a manner that ye can give place for a portion of my words." 16 Christ works with me wherever I am at, even if I can only muster an inkling of hope- that is good enough for him. Just like when Christ performed the miracle of multiplying the bread, making five loaves and two fishes feed five thousand, he can multiply my faith. All he asks is for me to give him what I do have.
Faith is Powerful
The 11th chapter in Hebrews gives illustrations of faith and then the followed blessings. Through faith the worlds were made. Because of faith, Enoch was translated. Through faith Sara miraculously conceived. And through faith, Abraham offered up Isaac, the list goes on. Faith does bring miracles, these stories testify of it. Christ said, "Ye shall say unto this mountain, remove hence to yonder place; and it shall remove; and nothing shall be impossible unto you."17 If faith can move mountains, faith is absolutely strong enough to bring about a pregnancy. But if not, is my faith strong enough to still see God's hand in my life?
Unanswered Blessings
What about those whose stories do not end with their pictured happily ever after? What about my empty uterus? Hebrews 11 also speaks to unanswered blessings, "These all died in faith, not having received the promises, but having seen them afar off, and were persuaded of them, and embraced them, and confessed that they were strangers and pilgrims on the earth."18 These people DIED without their promised blessing! But they knew something of even more importance, "They were strangers and pilgrims on the earth." Their true identity as a child of God took precedence in their lives and they knew where they had come from.
Identity as a Child of God
The hymn "Oh My Father" comes to mind, "Yet ofttimes a secret something whispered, You're a stranger here, and I felt that I had wandered from a more exalted sphere."19 I swell up with peace and get shivers all over my body when I think of this realization- I am a literal spirit daughter of God. He loves me and knows me better than I think I know myself. You are a child of God, and He loves you and knows you better than you know yourself.
Faith Promoting versus Faith Perfecting
The scripture in Hebrews goes on, "And these all, having obtained a good report through faith, received not the promise."20Life is about relationships, our relationship with God and our relationship with others. Struggles make us vulnerable and vulnerability brings us to our knees. What if the blessing of a "good report" by faith is having a relationship with God we may not have had otherwise? If my faith is strong enough, it can bring unhindered and uncomprehended blessings. They may just not be packaged the way I had imagined. For those that are healed as a result of a blessing or because of faith, their faith is even further strengthened. But for those who are not healed but continue in faith, their faith is being perfected. "The first is a faith promoting experience. The second is a faith-perfecting."21
So this is now where I sit- and I can't say I sit here quite comfortably yet either, it is a journey.  Paul experienced a challenge he referred to as "a thorn in the flesh" and he asked the Lord three times for it to be removed. Christ answered back saying, "My grace is sufficient for thee: for my strength is made perfect in weakness." Paul then states, "Most gladly therefore will I rather glory in my infirmities, that the power of Christ may rest upon me."22 This message is surely inspiring. Christ's grace is sufficient for me, His grace is sufficient for you. 
Lead Thou Me On
Faith is in fact mystical; faith may bring about the blessings prayed for or may bring about blessings that were uncomprehended before. True faith can be applied to a vast array of complicated situations but have at least one outcome. Faith increases in our relationship with God. When perimeters with God are mentally taken down and his plan is embraced, his love in our lives can be boundless. God is constantly raining blessings upon us but it is our fear and doubt, that like an umbrella, block these blessings from reaching us.23 It is up to us to take down our umbrellas.
There is a drawing of a small girl holding her prized teddy bear that comes to mind. Christ is kneeling before her, eye level. He is lovingly looking deep into her eyes with his hands outstretched beckoning her to give up her cherished teddy bear. What the young girl cannot see is that behind Christ's back there is an even larger, more exquisite, tailored for her, cozy teddy bear. Christ is beckoning me to give him my teddy bear; my dreams, timing and planning. I am giving them to him because I trust him, "I loved to choose and see my path; but now, lead thou me on!"24
Recognizing I am powerless but God and his son Jesus Christ is all-powerful is faith. This testimony gives me the power to accomplish anything that God puts in my path. He said, "If ye will have faith in me ye shall have power to do whatsoever thing is expedient in me."25 I was never meant to go through this alone. You were never meant to go through your trials alone either. We are meant to do it with the Savior's help. I can trust God's will because I can trust his love.
Resources:
2 Nephi 2:11

"Agency – The Church of Jesus Christ of Latter-day Saints."

https://www.lds.org/topics/agency?lang=eng

.

"Trials and Adversity – Dallin H. Oaks – BYU Speeches." 17 Jan. 1995,

https://speeches.byu.edu/talks/dallin-h-oaks_adversity/

.

"FastStats – Infertility – CDC." 15 Jul. 2016,

http://www.cdc.gov/nchs/fastats/infertility.htm

.

"Faith and Infertility – Ensign Apr. 2011 – ensign."

https://www.lds.org/ensign/2011/04/faith-and-infertility?lang=eng&clang=hmo

.

"Fourth Floor, Last Door – By President Dieter F. Uchtdorf."

https://www.lds.org/general-conference/2016/10/fourth-floor-last-door

.

Isaiah 55:8

Proverbs 3:5-6

John 5:30

Matthew 26:39, emphasis added.

"Willing to Submit" – Neal A. Maxwell."

https://www.lds.org/general-conference/1985/04/willing-to-submit

.

Isaiah 55:9

Mosiah 3:19

1 Corinthians 13

"Lord, I Believe" – By Elder Jeffrey R. Holland – LDS.org."

https://www.lds.org/go/83Believe

.

Alma 32:27

Matthew 17:20

Hebrews 11:13

"O My Father – LDS.org."

https://www.lds.org/music/library/hymns/o-my-father

.

"Hebrews 11:39, emphasis added

"

Faith and Infertility – Ensign Apr. 2011 – ensign – LDS.org."

https://www.lds.org/ensign/2011/04/faith-and-infertility?lang=eng

.

2 Corinthians 12:9

"Living the Gospel Joyful – By President Dieter F. Uchtdorf."

http://www.lds.org/general-conference/2014/10/living-the-gospel-joyful?lang=eng

.

"Lead, Kindly Light – LDS.org."

https://www.lds.org/music/library/hymns/lead-kindly-light

.

Moroni 7:33