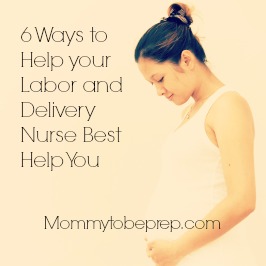 We nurses went into nursing because we find joy in helping people. There are a few things I have learned that patients can do to best help their labor and delivery nurses help them.
1. Educate yourself; take care of yourself.
Pat yourself on the back for already being here on this site!  In addition to reading on this site, the prenatal classes offered by the hospital are often free and are well worth your time.  The basic things are the most important; please attend all of your prenatal Dr. visits, do not smoke and stay away from those that do smoke, do not have ANY alcohol, take your prenatal vitamins, eat a well balanced diet, drink plenty of water, and exercise.  I have had patients say they are just too busy to take care of themselves because of their numerous responsibilities, but you do not have time not to take care of yourself! Caring for yourself will help you be able to carry out your responsibilities more proficiently. 
2. Come with a plan.
Either a written plan or one just in mind but please be flexible.  Unfortunately every labor is different, even from one baby to the next.  Our number one goal is to keep Mom and Baby safe.  If the Doctor or nurse feels that your request isn't the best option for you and baby, we will let you know.  But please know we are on your team, nurses are patient advocates.
3. Share your birthing plan.
Your plan is useless if you don't let your nurse know about it! During the admission process the nurse will ask you several questions. This is the perfect time to share with us your wishes.  It is also a great idea to talk with your significant other and support team beforehand to let them know of your expectations during the labor process, don't be afraid to get specific!
4. Know who you want in the room.
At the hospital I work at we have a rule of only having three visitors in the labor room before and during labor (you may want to check your hospital's rules). Taking a hospital tour is a great way to better learn about the unit and ease some nerves.
5. Keep your jewelry to a minimum and keep your hairstyle simple.
When planning on a vaginal delivery you are just fine to keep jewelry on but nothing too big, you don't want anything tugging on you while your in labor.  If you are a planned C-section do not wear any jewelry or metal at all including bobby pins.  In fact your hair will soon be covered up due to the nurse placing a hair net over your hair prior to entering the O.R.  You do not have to be dolled up like a princess coming to the hospital but if that helps you feel better then that's what you should do! Just remember all metal objects have to come off to go to the O.R.
6. Do not sneak food when told not to!
We do not find joy in keeping pregnant woman hungry… I swear! If you are not a scheduled C-section go ahead and eat before you come to the hospital.  Once you are at the hospital in labor what you can put into your mouth is very minimal.  Ice chips, a possible popsicle, and maybe an apple juice if the doctor permits.  Why so little?  If there is an emergency C-section you are at higher risk for aspirating (choking) if you have had recent food in your stomach.  Also, the labor process may make you nauseated and many throw up, having little in your stomach helps to make this a little less uncomfortable.
Not too much to ask right?  You can do it! Your nurse will thank you for helping them help you!
Image courtesy of Jomphong at FreeDigitalPhotos.net