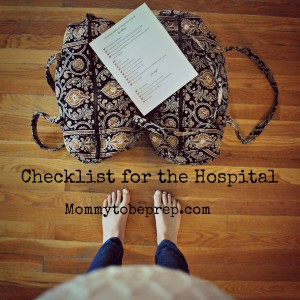 Download PDF checklist shown in the picture here: Check List of What To Bring to The Hospital
Momma's Hospital List
Picture ID and insurance card
These will be taken at registration.
Any medications you are currently taking or a list with the dosage
Usually you are not allowed to take your own medications at the hospital but having the bottle can help pharmacy insure you get exactly what you need.
Items to keep yourself busy
Depending on your circumstance (scheduled inductions especially) you may have a lot of free time at the hospital. Bring items to fill this time such as favorite movies, journal, card games, or thank you notes.
Toiletries and favorite personal items
Any special items that help you feel refreshed and pretty such as your favorite scented lotion or your favorite lip-gloss.  Hair ties or headbands are a good idea (I suggest to have your hair up and out of your face while pushing in labor, no one likes sweaty hair on their face).  The usual items such as deodorant, tooth paste, and tooth brushes (please don't forget these!)
Robe
If you have ever been in the hospital before you may know the gowns can be show stopping as they have an easy access to the backside.  If you would like some extra coverage a robe is a great and cozy idea. I wouldn't bring an expensive robe as you risk getting some blood on it. You may also choose to labor in your own clothes if your hospital allows.
Lip balm
This deserves its own separate line from toiletries because its that important! Laboring without oral fluids can cause your lips to become dry.  Many hospitals only allow ice chips during labor. Lip Balm can make a world of difference.
Your favorite pillow
The hospital pillows are not exactly 5 star quality.  It's best if you use a bright colored pillowcase so it does not get mixed in with the hospitals, also labor can be messy so having that pillow double layered is not a bad idea.
Relaxation/diversion tools
You know what calms yourself down the best!  Relaxing quite music, aromatherapy, massage oils, back massagers, focal point item(s) such as a sentimental picture, or even something as simple as a tennis ball rolling on your back or in your hand can serve as helpful distraction to patients experiencing discomfort.
Camera
Have it charged and ready to go but don't forget the batteries, charger, or memory card! (Also remember these when going home, as they are the most common things forgotten at the hospital).
Yummy food that you haven't been able to eat during your pregnancy
Think of all that food you haven't been able to eat during your pregnancy (sandwich meat, sushi).  Labor builds a huge appetite and unless you have had a C-section we let you eat anything you want! You burned a major amount of calories but no, I don't know how many, but yes, you deserve to eat that huge piece of whatever sounds best to you! Hospitals usually like to give the family a delivery package with snacks in it for after delivery but sometimes your special craving is just not satisfied.  Either bring your treat with or give a family member or friend the task of picking up some food for your hungry belly! Plus, sometimes your favorite treat can even be an incentive when pushing!
Pajamas or nightgown
You do not have to stay in the show-stopping hospital gown your whole stay! Bring a couple of comfy pairs of clothes you can lounge in while in postpartum.  Again you do risk getting blood on any clothes item you bring!
*The hospital will give you some peri pads and mesh panties but if you want more comfortable undies then I'd suggest cotton fruit of the loom grandma style!
Slippers/flip flops
I would not advise anyone to walk around the hospital floor barefoot- please don't!  On that note please do not let your children play on the hospital floor either!  Please bring a pair of shoes easy to slip on and off, also, a pair that you would be okay with getting drops of blood on or they are easy to clean.
Nursing bras or good supportive bra
If you are planning on breastfeeding make sure the bra is not restricting as this can inhibit your milk production!  If you are planning to exclusively formula feeding your baby please first see the section titled "Why Nurses are Obsessed with Breastfeeding" and if you still decide on strict formula feeding bring the tightest sport bra you have!
Going home outfit
Every mom likes to feel good when going home! Most women do not fit into their pre-pregnancy clothes right after delivery- bring a cute loose fitting outfit!
Headphones
If you plan on walking during your labor, bring these! We can connect your headphones to the ambulatory fetal heart rate monitor so you can hear your baby's heart rate and assist in your own care.
* You may want to have a copy of my post Most Common Medication's in Labor & Delivery at bedside (either print out or have handy on your phone) to help you know your options!
Significant Other's Hospital List
ID
Most labor and delivery units require all visitors to have an ID, find out your own hospital's policy.
Blanket
Mommy-to-bes tend to like a cold room while laboring and labor can be a longgggg. Your significant other may need to snuggle up in a blanket for a nap.
Snacks and a drink
Your significant other needs to be well nourished to best help support you! Cash for vending machines are also not a bad idea.
Change of clothes
If you plan on your significant other staying the night, a new set of clothes would come in handy. If you are interested in using the labor tub and would like your significant other in the tub with you, the nursing staff would appreciate if you packed him swim suite!
*Make sure your significant other brings the right attitude! Have your support person come prepared by reading "How to Support Her Through Labor and Delivery".
Baby's Hospital List
Car seat (installed)
To install your car seat use the car seat directions as well as your vehicle's owner manual.  The website http://www.safercar.gov/parents/Car-Seat-Safety.htm gives great instructions and video to assist in this complicated process if never attempted before!
If you are having second-guesses if you have installed it correctly many times the fire stations offer free one on one car seat safety checks.
Breast pump
If you are a mother that is planning on pumping, find out what type of breast pumps your insurance covers (many insurances are now covering breast pumps due to Obama Care).  Also, find out if the hospital carries these and compare prices with other places.  If you go with a breast pump bought outside of the hospital still bring it, as the postpartum nurses are awesome at helping you set it up.
Breastfeeding pillow
This makes life and breastfeeding a whole lot easier.
Picture outfit/Going home outfit(s)
Newborns tend to be a little spitty, although exclusively breastfeeding may help with this I would have two possible going home outfits just in case.
Baby blanket
The hospital will have blankets for you, burp cloths, diapers, wipes, pacifiers, bathing supplies, and formula. Usually the hospital does not let you take any of the linen (baby blankets and burp cloths) home so make sure to bring your own baby blanket to keep your babe warm on the ride home!
And now your ready for the hospital! 😀
 Download the PDF checklist shown in picture here: Check List of What To Bring to The Hospital